New Workshops, Courses & Training @ Familia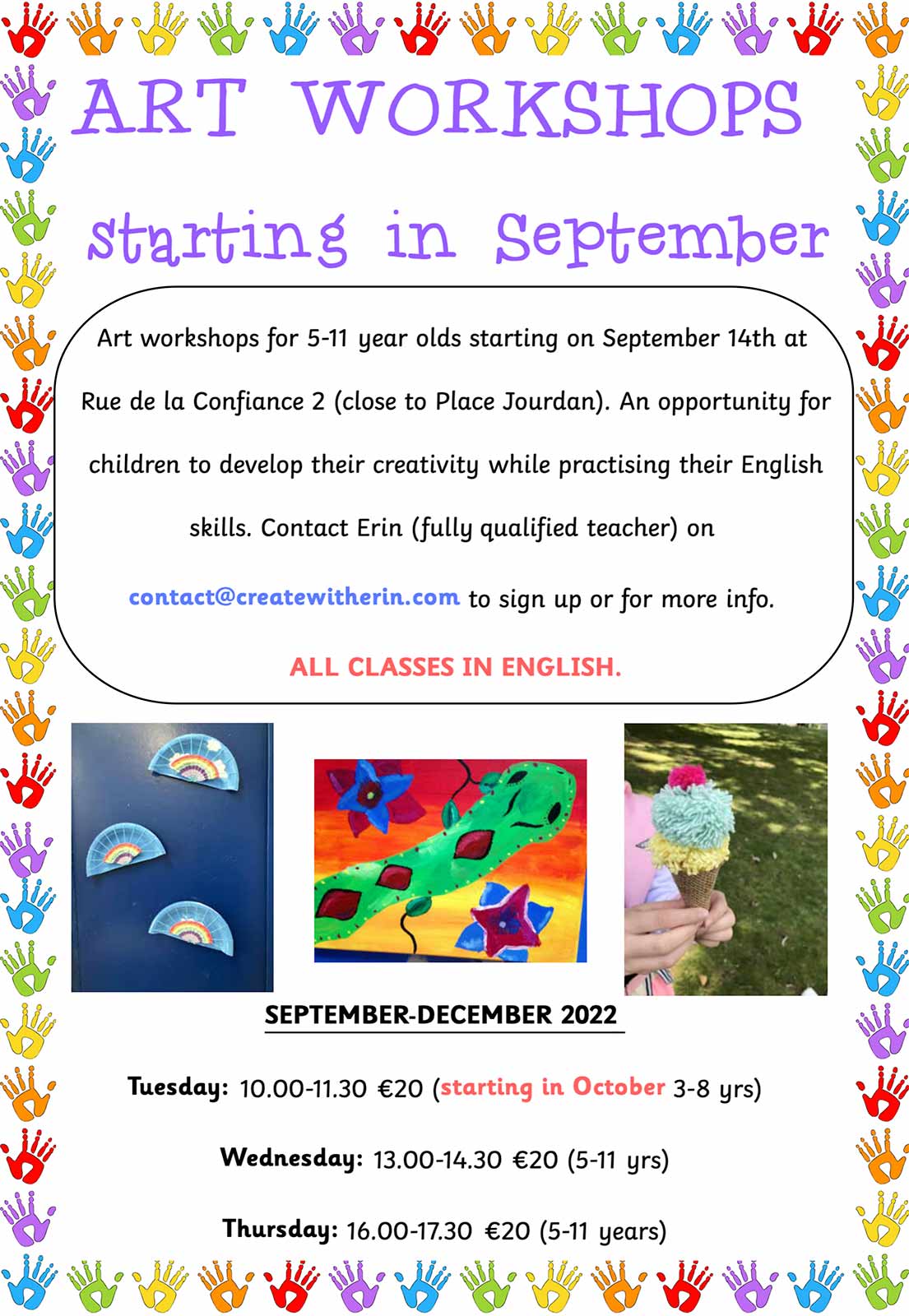 Art Workshops for Children in Brussels
September - December 2022
🧒 Age: kids 5-11 years old
👩🏼‍🏫 Teacher: Erin
📍 Location: Familia, Rue de la Confiance 2, Etterbeek / Brussels (map)
💶 Price: € 20
🗓️ Day/time options:

Tuesday: 10.00-11.30 (start on October, 3-8 years old)
Wednesday: 13.00-14.30 (5-11 years old)
Thursday: 16.00-17.30 (5-11 years old)

📩 Info & booking by e-mail:
---
Details
After-school fun art workshops for primary school children starting on September 14th, 2022, with Erin (she's a qualified instructor).
An opportunity for children to develop their creativity while practising their English skills.
Familia is a safe multifunctional space in the heart of Etterbeek, near Place Jourdan and the European quarter of Brussels.
Workshops, courses and training programmes are provided by Erin, a qualified external partner at our venue in Etterbeek.
Info & Booking
Please write an email to creativeworkshops16@gmail.com to sign up or for more info.
---
How to find us?
We are located near Place Jourdan in Etterbeek, Brussels (Belgium).
What's on? Discover the following Events @ Familia
Searching for the following Events? Have a look at our Events page and follow us on Facebook
Rent our venue, located near Place Jourdan, in the hearth of Etterbeek
Interested in renting our venue for events, workshops, meetings, courses, art fairs, birthday parties and other occasions? Contact us